Miami, FL – July 7, 2020 (EmergingGrowth.com NewsWire) — EmergingGrowth.com, a leading independent small cap media portal with an extensive history of providing unparalleled content for the Emerging Growth markets and companies, reports on Trillion Energy International, Inc. (OTC Pink: TCFF)
As Russia loses its power grip on natural gas supply in Europe, the Black Sea and its surrounding countries are emerging as a triple threat to provide energy stability to the region. The area is known to host massive natural gas reserves and, by large, have energy-friendly regulations (some countries more than others), while being situated on an energy transfer thoroughfare.
As noted by the Middle East Institute, Turkey is running with the opportunity to work towards energy independence by looking to play an integral role in natural gas supply to Europe, including state-owned energy company TPAO recently spending $1 billion on drilling vessels.
With multiple projects in the region, including offshore and onshore projects in Turkey and another in Bulgaria, Trillion Energy (CSE: TCF)(OTCPK: TCFF) is in a prime position to capitalize on the Black Sea opportunity. While each project has significant upside potential, the producing SASB (South Akçakoca Sub-Basin) project just offshore of Turkey is particularly compelling. Trillion owns a 49% interest in the project that has over $608 million invested in infrastructure, including four production platforms and 10 wells already tied-in.
The SASB project has been producing natural gas for many years, producing over US$300m to date, but remains grossly underdeveloped with the lion's share of the resources unexploited. Trillion is on a mission to rectify that, "re-developing" the project to increase production at existing wells while tapping into new discoveries utilizing the existing infrastructure.
"Not many companies get a $600 million jump-start on tapping new wells that are initially expected to initially host over 27 billion cubic feet of 3P (proven, probable and possible) natural gas," said Trillion CEO and President Dr. Arthur Halleran in a conversation with Baystreet.ca. Halleran has a nose for international oil and gas, a keen skill he honed during his time at majors like Chevron (NYSE: CVX) and Petro-Canada, before founding Canacol Energy (TSX: CNE), a company that made a billion-dollar natural gas discovery in Colombia.
Shallow Gas Makes Deep Pockets
When people think Black Sea – or any projects offshore – the tendency is to envision deep sea drilling, such as the Neptun Deep joint venture project between ExxonMobil (NYSE: XOM) and OMV's Romanian subsidiary Petrom that is located some 150-200 kilometers offshore Romania.
That's not the case with SASB. Located just offshore, north of Akçakoca, Turkey (and nearby the Cayagzi gas processing facility), the project is recognized as the first shallow water natural gas field development offshore Turkey.
The water depth at the four SASB platforms range from only 61 meters to 94.5 meters. By comparison, the Neptun Deep field is located in water depths between 100 meters and 1,700 meters. Natural gas reserves at Neptun Deep are estimated between 42 to 84 billion cubic meters (BCM). By some accounts, the deposit hosts up to 130 BCM, enough to produce profitably for 20 years without any new discoveries.
GLJ Petroleum Consultants has estimated the Trillion's net before tax NPV10 (the discounted value of the reserves after all capital development, operating, costs, and royalties before taxes, discounted 10% to present day dollars) from reserves alone is US$79.54 million.
To add some context to the upside potential, consider Trillion currently has a market cap of only US$3.7 million based upon Monday's closing price for U.S.-listed shares at 6.5 cents, according to data from QuoteMedia.
Trillion has the opportunity to continue expanding its reserves, considering 23 wells have been drilled to date with 81% success rate. Still, the 3P reserves today have estimated net revenue to Trillion of US$132.8 million – over US$ 1.29 per common share of Trillion, all while its shares trade at an incredibly steep discount to intrinsic value, making it a potential candidate for a share price rebound.
Even with consideration for only the 2P (Proven and Probable) reserves of 3.21 BOE at NPV10, the valuation equates to US$79.5 million to Trillion, or $0.77 per common share.
Moreover, the NPV10 valuation for 1P (Proven) reserves of US$38.86 million computes to $0.38 per common share.
New Gas Resources on the Horizon
Given the promising nature of SASB, it is not surprising that Trillion is moving with a purpose to re-develop the project and unlock value. Last week, the company took the next step, saying it has completed its preliminary costing estimates and timelines associated with developing the reserves on SASB.
Leveraging the existing infrastructure, the work will go quickly. The plan is to conduct three rig-based workovers of existing wells tied into pipeline to return the wells to full production. These workovers are anticipated to take 10-15 days each.
Completion of the four undeveloped proven discoveries previously drilled (but not tied into pipe) is also on the schedule. These wells will be brought to production by re-drilling the directional wells from the existing platforms and tying them into the existing pipeline, which will take about 45 days each.
Management expects the work program to take 5-6 months from start to finish, although the ambitious timeline could be extended. Currently, GLJ Petroleum Consultants is completing a report on the prospective resources at SASB. Trillion plans to announce a final decision on the upcoming work program details in July after it receives and analyzes the report.
At the same time, Trillion will evaluate drilling additional low-risk prospective wells. Funding for this can come from leveraging the reserve and resource reports for debt financing. "We have been in touch with key potential lenders who have demonstrated an interest in evaluating the project. We believe that our reserves, operating history and current infrastructure de-risks the project so a debt facility make be feasible," said Halleran in Tuesday's news release.
The Bottom Line
Trillion's development efforts at SASB are expected to net the Company over 20.1 BCF of P2 (proven and probable reserves) having a NPV (net present value) of US$79.54 million. Trillion's Reserves are up quadruple digits: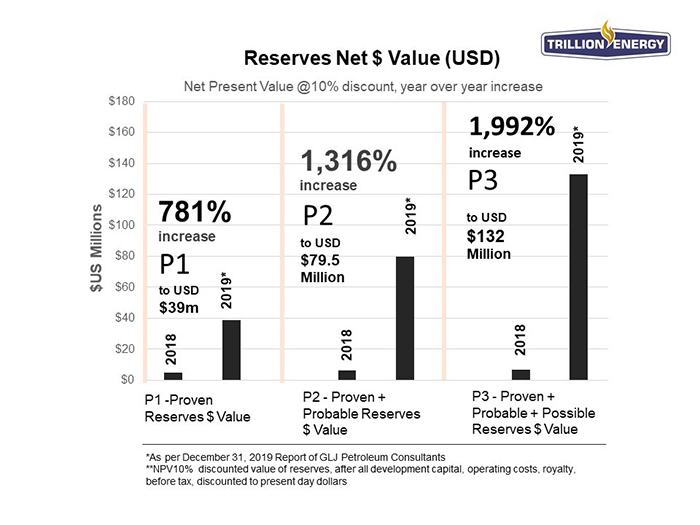 Source: Trillion Energy
According to the Company's news release of June 23rd, 2020, the intrinsic value of the P3 reserves is US $1.29/ share and for P2 reserves US $.77/ share
The Company realizes gas prices sold at prices between US$6 and $7/MCF – prices 400% higher than available in North American markets.
Gross gas production is expected to hit a peak of 27 million cubic feet per day (gross) from the future development of reserves, with anticipated net backs of approximately US$5 per MCF, a profit margin unheard of for domestic gas producers.
$133 million in 3P reserves. $3.7 million market cap. Only $26 million in capex needed. Infrastructure in place. Producing natural gas field. If you're thinking that Wall and Bay Street seem slow to get the math correct, you're arguably correct.
Legal Disclaimer/Disclosure: While all information is believed to be reliable, it is not guaranteed by us to be accurate. Individuals should assume that all information contained in our article is not trustworthy unless verified by their own independent research. Also, because events and circumstances frequently do not occur as expected, there will likely be differences between any predictions and actual results. Always consult a licensed investment professional before making any investment decision. Be extremely careful, investing in securities carries a high degree of risk; you may likely lose some or all of the investment. Furthermore, it is certainly possible for errors or omissions to take place regarding the profiled company, in communications, writing and/or editing. Nothing in this publication should be considered as personalized financial advice. We are not licensed under any securities laws to address your particular financial situation. No communication by our employees to you should be deemed as personalized financial advice. Please consult a licensed financial advisor before making any investment decision. This is a paid advertisement and is neither an offer nor recommendation to buy or sell any security. We hold no investment licenses and are thus neither licensed nor qualified to provide investment advice. The content in this article is not provided to any individual with a view toward their individual circumstances. Baystreet.ca expects to be compensated in Trillion Energy restricted shares valued at thirty-five thousand dollars for advertising. There may be 3rd parties who may have shares of Trillion Energy and may liquidate their shares which could have a negative effect on the price of the stock. This compensation constitutes a conflict of interest as to our ability to remain objective in our communication regarding the profiled company. Because of this conflict, individuals are strongly encouraged to not use this article as the basis for any investment decision. By reading this communication, you agree to the terms of this disclaimer, including, but not limited to: releasing Baystreet.ca, its affiliates, assigns and successors from any and all liability, damages, and injury from the information contained in this communication. You further warrant that you are solely responsible for any financial outcome that may come from your investment decisions.Livemoney US Market CommentaryJuly 7, 2020 – 5:45 AM PDT
About EmergingGrowth.com
EmergingGrowth.com is a leading independent small cap media portal with an extensive history of providing unparalleled content for the Emerging Growth markets and companies. Through its evolution, EmergingGrowth.com found a niche in identifying companies that can be overlooked by the markets due to, among other reasons, trading price or market capitalization. We look for strong management, innovation, strategy, execution, and the overall potential for long- term growth. Aside from being a trusted resource for the Emerging Growth info-seekers, we are well known for discovering undervalued companies and bringing them to the attention of the investment community. Through our parent Company, we also have the ability to facilitate road shows to present your products and services to the most influential investment banks in the space.
All information contained herein as well as on the EmergingGrowth.com website is obtained from sources believed to be reliable but not guaranteed to be accurate or all-inclusive. All material is for informational purposes only, is only the opinion of EmergingGrowth.com and should not be construed as an offer or solicitation to buy or sell securities. The information includes certain forward-looking statements, which may be affected by unforeseen circumstances and / or certain risks.  This report is not without bias. EmergingGrowth.com has motivation by means of either self-marketing or EmergingGrowth.com has been compensated by or for a company or companies discussed in this article. EmergingGrowth.com has been compensated twenty five thousand dollars in consideration for its work with Trillion Energy International, Inc. through the date this was published. EmergingGrowth.com may or may not receive additional compensation, details about which can be found in our full disclosure, which can be found here https://emerginggrowth.com/8233-6727465/.  You can easily loose money investing in highly speculative small cap stocks like the ones mentioned within. Please consult an investment professional before investing in anything viewed within. When EmergingGrowth.com is long shares it will sell those shares. In addition, please make sure you read and understand the Terms of Use, Privacy Policy and the Disclosure posted on the EmergingGrowth.com website.